3.3. pyopus.parallel.cooperative — Cooperative multitasking OS with task outsourcing¶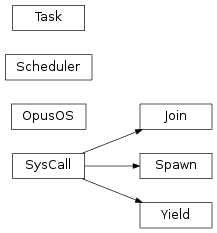 Cooperative multitasking OS with task outsourcing (PyOPUS subsystem name: COS)
This module is based on the greenlet module. Concurrent tasks can be created in a UNIX-like fashion (with the Spawn() method). The return value of a task or multiple tasks is collected with the Join() method. Joins can be blocking or nonblocking.
The cooperative multitasking OS takes care of outsourcing the tasks to computing nodes if it is permitted to do this and there are computing nodes available. Outsourcing uses the virtual machine specified by calling the setVM() method. If no virtual machine is specified outsourcing is not possible.
COS makes it possible to implement multilevel parallelism and asynchronous algorithms in a simple manner. Parallel algorithms can be run on a single CPU by taking advantage of the greenlet module for providing the microthread functionality. Every local task is a microthread that runs concurrently with other microthreads. The microthreads are cooperatively scheduled by COS. Of course such a run is slower than a real parallel run involving multiple tasks across multiple processors.