3.5. pyopus.parallel.jobdispatch — Parallel job dispatcher based on the evtdrvms module (obsolete)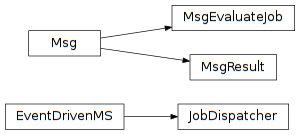 Master-slave job dispatcher (PyOPUS subsystem name: JD)
A simple asynchronous parallel job dispatcher. If no vm object is supplied, the jobs are evaluated locally. This module is based on pyopus.parallel.evtdrvms and is therefore obsolete. It will be removed in the next release. Use pyopus.parallel.cooperative.OpusOS.dispatch() method instead.
class pyopus.parallel.jobdispatch.JobDispatcher(vm=None, maxSlaves=None, minSlaves=0, debug=0)

An asyncronous parallel job dispatcher.

vm is the virtual machine object. If it is not given the jobs are evaluated locally.

maxSlaves and minSlaves specify the maxiaml and the minimal number of parallel processes.

A nonzero value of debug turns on debug messages.

Derive from this class and reimplement the first four methods. Invoke the evaluation by calling the run() method.